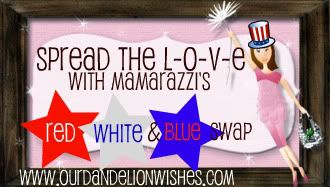 Time for another swap and how appropriate is a red, white and blue theme when the package should come the first week in July?!?!
I have so many ideas for this one and can't wait to find out who my partner is and start shopping!! It is a super way to get to know new bloggy friends and also to get some great gifts in the mail and I don't know about you, but a package addressed to me always puts a smile on my face.
If you have never done a swap go over to
Dandelion Wishes
and check it out. But get there quick because the slots will fill up fast.