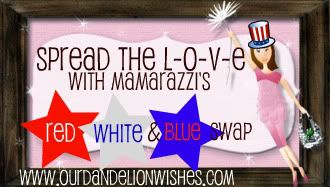 I signed up for a Red, White & Blue swap over at
Mamarazzi's
site. I was a little hesitant at first because the last swap I signed up for I spent a ton of time and put a lot of thought into the gifts I chose and then my partner didn't send her package in return so I was worried that these swaps didn't work so great.
BUT........
I was partnered up with Vickie over at
Vickie's Voice
and she has made a believer out of me.
I got my package and was more than pleasantly surprised.
Here is what I got:
Yummy Red, White & Blue chocolate. The girls saw it and were extremely happy, until I hid some of it for myself. Then I got a lot of "No fair" comments from them.
A towel with my name on it. Again making my little girls say "No fair, we can't take it if it has your name on it". Which translated to me as "Yes, finally something that is all mine, bwahahah".
A super cute embroidered apron. I told Jeff he would look cute in flowers and he told me I would look good in the kitchen, think that is a hint????
Really cute embroidered visor which I will be using this weekend at the Fourth of July parade and the Jonas Brothers concert since I didn't think and bought tickets on the west side of the stadium so the sun will be in our eyes for the first 2 hours~~ well every one's but mine!!
Cute and comfy red, white & blue socks!! Yeah, I can never have enough socks and if I am not the one buying them then nobody (cough, cough, Jeff) can complain.
These great purse holders. They work by attaching them to the table when you are in a restaurant to keep your purse off the nasty floor and I have been wanting some for the longest time!!
A beautiful journal. It fits perfectly in my purse so I will have it when I actually think of things while I am sitting around waiting or whenever I want to write about instead of the huge one I have at home that has almost nothing in it because by the time I get home I have forgotten.
A great magnetic list that I can keep on my fridge for messages. Another thing I have been meaning to get and never remember!! Also a red and blue Sharpie and a four color pen, which I really, really love and haven't had one for years! The were tied up with a super cute red, white and blue hair tie that the girls also fought over to see who gets to use it first.
So there you go, my Red, White & Blue swap was a great success, at least on my end. Vickie either has ESP or she just really "gets" me because I love it all!!! I only hope Vickie is as happy with her things as she has made me!! Thanks Vickie and thanks Mamarazzzi for doing the swap!!!!!!